Enjoy a
Completely Customized Deck

from Boulder, Colorado's Go-To Deck Building Company
We Design and Construct Custom Decks With All the Details Done Just Right
Come home to a beautiful deck in the Boulder Colorado area. O'Keefe Built specializes in creating beautiful, long lasting decks from the ground up. Our team of licensed contractors and expert craftsmen, start every project with a solid foundation. From planning and permits, to breaking ground and framing, every aspect is covered to ensure a safe and beautiful outdoor living space for years of use, with little to no maintenance.
Talk to our custom deck builders about special features and finish options. From railing to deck lighting, we can enhance your project to create your perfect outdoor living space. We can incorporate every feature into your design so everything from the steps to the overhead lighting and in-built gazebos become perfectly crafted extensions of your deck.  
We use pressure-treated LVL framing supports, Vycor deck protector and time-tested construction carpentry practices that guarantee a sturdy deck that is safe and sound for twice the lifespan of regular pressure-treated wood.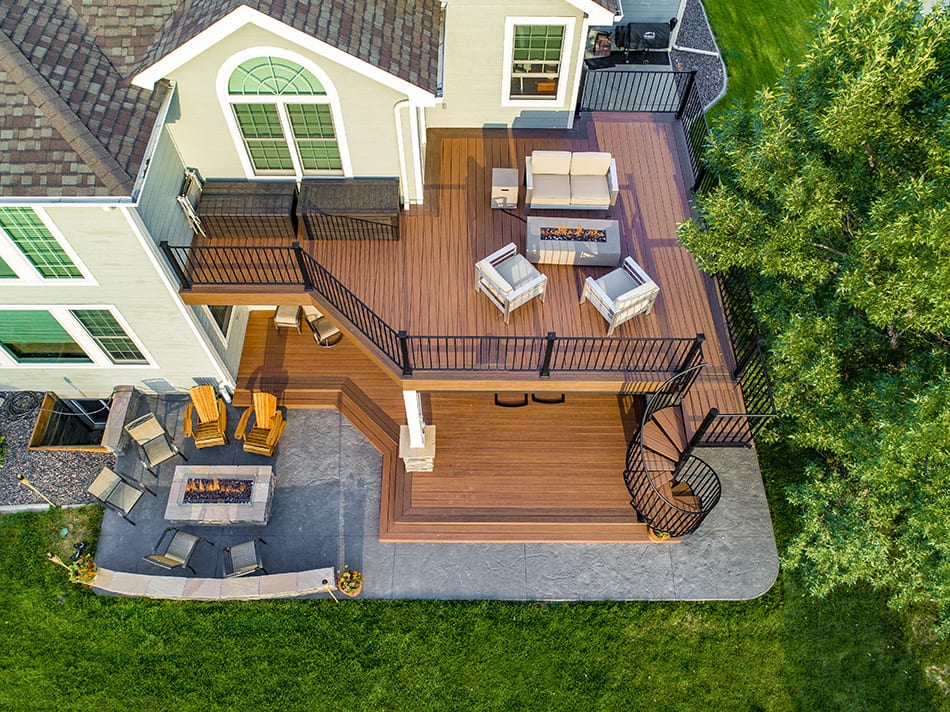 Choose the Deck Building Company That Offers Quality, Communication, and Expertise
A worn, shaky, or unstable deck is one you won't enjoy using. At O'Keefe Built, we don't just create nice-looking outdoor living spaces. We create decks, patios, and outdoor living spaces you'll trust stepping onto year after year. Our construction processes are founded on high-quality building practices that our general contractors and in-house craftsmen have continued to perfect over years of designing and building. When you choose O'Keefe for your next outdoor living space, you get:
Quality materials like pressure-treated LVL that offer maximum support and beauty over the seasons with little to no maintenance and utmost satisfaction

Custom amenities, such as patio covers, fire pits, built-in grills, and gazebos

Comprehensive services from designs to construction to subcontracting on complex electrical and plumbing projects for your outdoor living space

Transparent progress reports through communication with your project manager and BuilderTrend updates
Our Clients Love How Our Deck Building Company Builds Every Outdoor Living Space to Last
The measure of a great deck isn't just in how it looks the day after construction is complete. Great decks feel safe, look beautiful, and stay strong years after the final board is set in place. Our clients know that we build with expert techniques, use rugged and carefully selected materials, and commit to structural integrity every step of the way. See why other homeowners in your neighborhoods have chosen to trust O'Keefe Built.
We had a back porch put onto a new addition. They started and completed on time and within budget. The crew was a delight and very respectful to have working on our property. The finished porch is amazing and completed with great craftsmanship. I strongly recommend this team.
Overall, the O'Keefe Built crew was a pleasure to work with. They built a beautiful deck that works perfectly in the space we had...it looks like it came with the house! Pat was knowledgeable and friendly, easy to work with. Project was on budget and on time. We highly recommend them!
Always super pleased with O'Keefe Built projects! They are detail-oriented and work to ensure the customer is satisfied. Will continue to use in the future!
We absolutely love the pergola that Pat and his team built on our back patio - they were friendly, professional, and got the job done quickly. Highly recommend!
Our Deck Building Company Creates Custom, Long-Lasting Outdoor Living Spaces That Are Picture Perfect
We believe in getting the details right, and that commitment to detail is part of every project. Our decks, covered patios, and custom outdoor living spaces highlight craftsmanship, structural integrity, and the beauty of a job well done. Browse through our gallery of past projects and picture yourself coming home to relax on your favorite one.
The Right Deck Building Company Makes All the Difference, and O'Keefe Built Is Built on Quality
Your journey to a custom-built deck starts with a phone call. If your home's deck is rotting, unsafe, or simply not the right fit for your ideal outdoor living space, don't wait for something to break. 
Call or

email

our team today to let us know what you have in mind for your space. A custom deck, a complete outdoor kitchen with a fire pit and grill, and covered concrete patio or sunroom… we do it all, and we'll get to work as soon as you take the first step.

Once you contact us, we'll schedule an initial walkthrough and site evaluation. There, we'll discuss in detail the needs of your property, what you need to create your perfect deck or outdoor living space, and the quality details that will elevate your backyard into an outdoor extension of your home.

Soon after the site visit, your project manager will send you a custom proposal. This includes, a estimate through the BuilderTrend Platform and could include  a video call to refine the plan and make sure every detail is just right

Then our in-house team of general contractors and deck builders gets to work. Each step focuses on safety and quality, from the 12″ on center supports to the picture framing edges of your deck. Our team is local and knows all the codes to ensure your deck is compliant, stays sturdy, and adds value to your home. Our skilled craftsmen handle the designing, rendering, and building so you can step back and watch your perfect outdoor living space take shape. 
Your project manager will check in every week during the project and post regular updates through BuilderTrend so you know exactly what's going on every step of the way.
Build Up Your Backyard With a Complete Outdoor Living Space
At O'Keefe Built, we do it all. Transform your backyard into a completely customized extension of your home with a custom deck, an outdoor living space complete with a kitchen and gazebo, a sunroom, or a covered patio. If you love spending time relaxing or entertaining in your backyard, we'll create a beautiful, personalized space to match your lifestyle. Browse our complete list of design and construction services.
We Create Beautiful Outdoor Living Spaces So You Can Enjoy the Local Outdoors in Your Own Backyard
We're proud to call the Boulder, Colorado area home, and we know how wonderful it can be to enjoy the mountain views from a relaxing outdoor living space. That's why we offer our complete deck building and outdoor living space construction services throughout the community. Our service areas include:
Erie, Colorado

Lafayette, Colorado

Longmont, Colorado

Louisville, Colorado
Sharpen Your Skills and Hone Your Craft By Joining Our Deck Building Company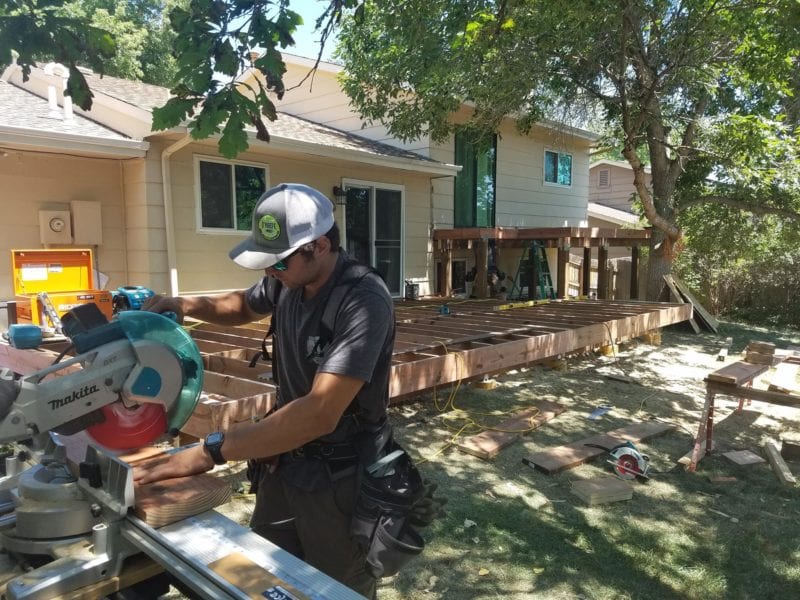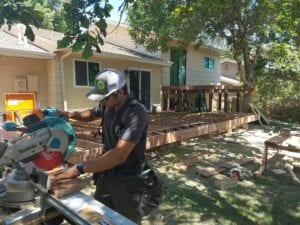 If You Want Quality, You Want O'Keefe Built — Contact Us Today
Look forward to a masterfully built deck and an outdoor space you'll love for years to come. We build spaces that are functional, long-lasting, and perfectly suited for relaxing and entertaining. Call or email our team today to let us know what you're looking for, and our team of experts will assess your property and start designing your custom deck.