O'Keefe Built Designs and Builds
High-Quality Outdoor Living Spaces

That Outlast and Outperform
Our Decks are built to last. If you have an old deck, damaged, rotted, or just outdated, we can help. Our team of designers, expert carpenters, and licensed general contractors are well seasoned in creating beautiful, long lasting outdoor living spaces. We build for the Colorado lifestyle, creating spaces that allow you to enjoy the outdoors at home. Our creations are also not just investments in your quality of life, but investments in the value of your property as well.
When you build with O'Keefe Built, your project manager will work with you to capture all of your design preferences for your property's needs. Then our in-house team will build a masterpiece-we build quality decks, not slapdash spaces. With us, you have the guarantee that we're using top notch materials, the right techniques for years of sturdy performance and the pest practices for projects that meet or exceed code requirements and of course…your expectations!
Why Choose Us?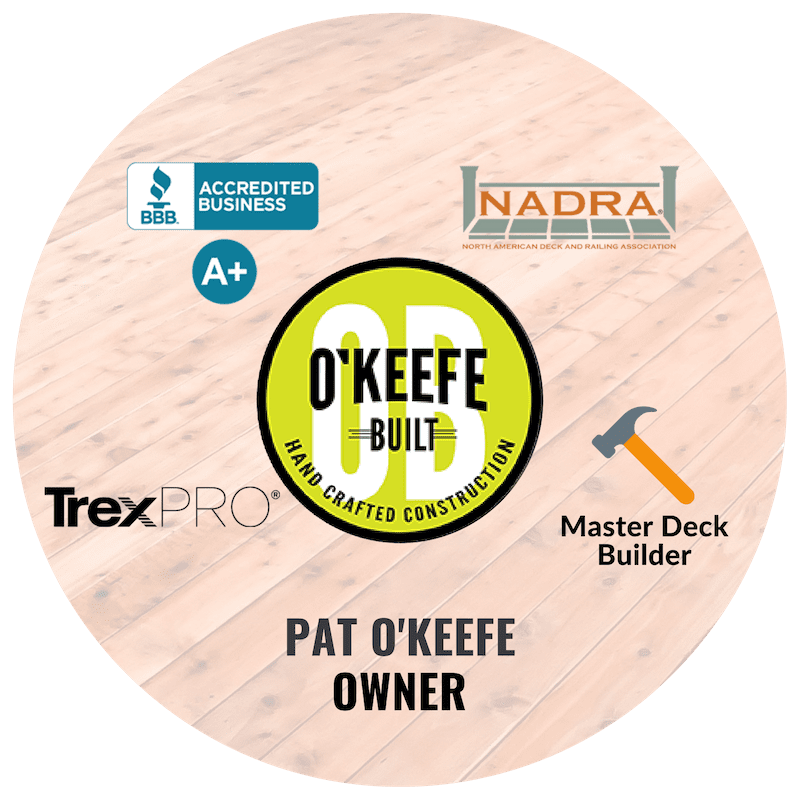 2-Year Warranty For Peace Of Mind

Quality Craftsmanship Is Our Goal

Honest Competitive Pricing
Boulder County's Premier Local Team of Expert Deck Builders and Quality Craftsmen
Since 2010, our team has been performing quality construction and contractor services in the Boulder, Colorado area. Today, we are a team of construction enthusiasts that build custom decks and outdoor living spaces that meet our high-quality standards. Our company is a North American Deck and Railing Association (NADRA) member,  We never cut corners, and every inch of our decks are built with precision carpentry techniques that ensure excellent lifetime appearance and performance of the space. We use cutting edge materials, have solid relationships with local masonry, plumbing, and construction specialists in the area, and commit to building spaces the right way, not the quick way. 
See What Your Neighbors Love Most About Our Quality Deck Construction Services and Their Outdoor Living Spaces
The measure of a great deck isn't just in how it looks the day after construction is complete. Great decks feel safe, look beautiful, and stay strong years after the final board is set in place. Our clients know that we build with expert techniques, use rugged and carefully selected materials, and commit to structural integrity every step of the way. See why other homeowners in your neighborhoods have chosen to trust O'Keefe Built.
We had a back porch put onto a new addition. They started and completed on time and within budget. The crew was a delight and very respectful to have working on our property. The finished porch is amazing and completed with great craftsmanship. I strongly recommend this team.
Overall, the O'Keefe Built crew was a pleasure to work with. They built a beautiful deck that works perfectly in the space we had...it looks like it came with the house! Pat was knowledgeable and friendly, easy to work with. Project was on budget and on time. We highly recommend them!
Always super pleased with O'Keefe Built projects! They are detail-oriented and work to ensure the customer is satisfied. Will continue to use in the future!
We absolutely love the pergola that Pat and his team built on our back patio - they were friendly, professional, and got the job done quickly. Highly recommend!
Examine Our Work and See Why We're Boulder's Trusted Deck Builders
Each of the deck builders on our team focuses on quality over speed and reliable workmanship over hasty shortcuts. You can see our attention to detail how we use conservative standards for the support frames of every project, picture frame corners to give every deck a finished aesthetic and superior surface drainage, and high-quality metal and wood materials. Browse through our gallery of projects to see how our time investment results in a superior product every time.
We Design, Render, and Build Long-Lasting Outdoor Living Spaces That Are Customized to Your Lifestyle and Preferences
There's nothing better than enjoying the view of mountains and forests from your backyard. Relax or entertain in comfort when you choose O'Keefe Built's deck builders. Our custom-built outdoor living spaces feature sturdy deck railings, top-of-the-line appliances and fixtures, and rock-solid materials that let you trust your deck year after year. Visit our services page to learn more about each service we offer.
Let the Deck Builders Do the Heavy Lifting — Getting a Custom-Built Deck Has Never Been Easier
Your journey to a custom-built deck starts with a phone call. If your home's deck is rotting, unsafe, or simply not the right fit for your ideal outdoor living space, don't wait for something to break. 
Call or

email

our team today to let us know what you have in mind for your space. A custom deck, a complete outdoor kitchen with a fire pit and grill, and covered concrete patio or sunroom… we do it all, and we'll get to work as soon as you take the first step.

Once you contact us, we'll schedule an initial walkthrough and site evaluation. There, we'll discuss in detail the needs of your property, what you need to create your perfect deck or outdoor living space, and the quality details that will elevate your backyard into an outdoor extension of your home.

Soon after the site visit, your project manager will send you a custom proposal. This includes, a estimate through the BuilderTrend Platform and could include  a video call to refine the plan and make sure every detail is just right

Then our in-house team of general contractors and deck builders gets to work. Each step focuses on safety and quality, from the 12″ on center supports to the picture framing edges of your deck. Our team is local and knows all the codes to ensure your deck is compliant, stays sturdy, and adds value to your home. Our skilled craftsmen handle the designing, rendering, and building so you can step back and watch your perfect outdoor living space take shape. 
Your project manager will check in every week during the project and post regular updates through BuilderTrend so you know exactly what's going on every step of the way.
Build Your Career Today by Joining Our Team of Deck Builders and Outdoor Construction Experts
If you love creating high-quality outdoor living spaces and showcasing your expertise, contact us today. We're an ethical company that thrives in creating masterpieces, not shortcuts, and we offer flexibility, PTO, and above-average pay.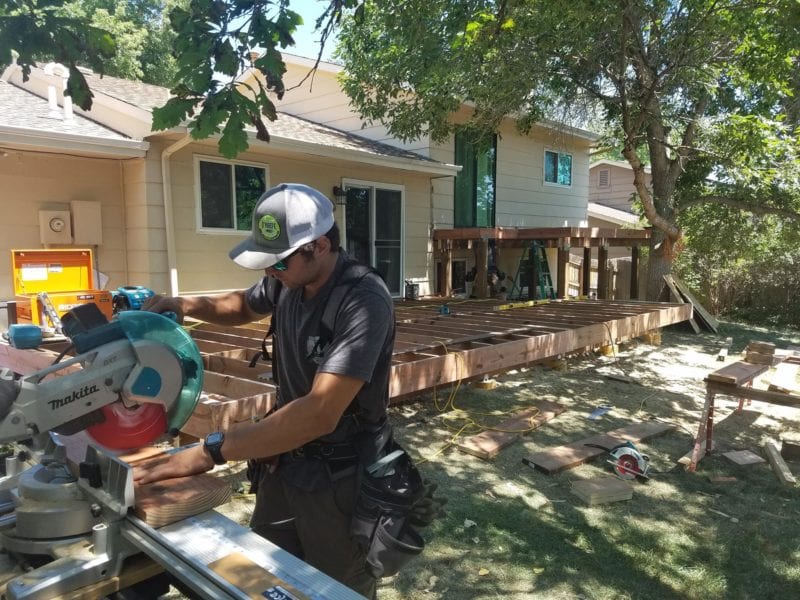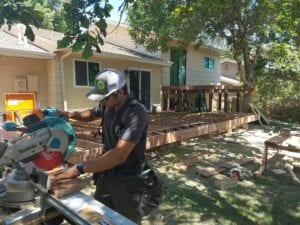 Our Deck Builders Serve Homes in the Extended Boulder, Colorado, Area
We're proud to call the Boulder, Colorado area home, and we know how wonderful it can be to enjoy the mountain views from a relaxing outdoor living space. That's why we offer our complete deck building and outdoor living space construction services throughout the community. Our service areas include:
Erie, Colorado

Lafayette, Colorado

Longmont, Colorado

Louisville, Colorado
Contact O'Keefe Built Today to Start Planning the Perfect Deck
If you love spending time outdoors, don't let wobbly rails, small space, or soft wooden boards give you second thoughts. Contact our team today to start replacing your existing deck or building the perfect outdoor living for your home. Call or email us to get started.