Relax Outdoors on a
Custom Built Patio

at Your Boulder, Colorado, Home From O'Keefe Built
Our Patio Builders Design and Construct Luxury Outdoor Living Spaces
Sink back and relax in your private outdoor resort. O'Keefe Built specializes in beautiful outdoor patios with all of the amenities you need to enjoy a vacation every day in your backyard. If you love spending your summer evenings outside but in cool shade, a covered patio with room for lounge chairs is the perfect addition to your home. If you host holiday parties throughout the spring, summer, and fall, our patio builders can create a complete outdoor entertaining area with a full kitchen, plenty of seating room, and safely constructed fire pits. No Boulder, Colorado, home is complete without a quality-constructed, custom patio that perfectly suits your lifestyle, and O'Keefe Built is here to make it happen.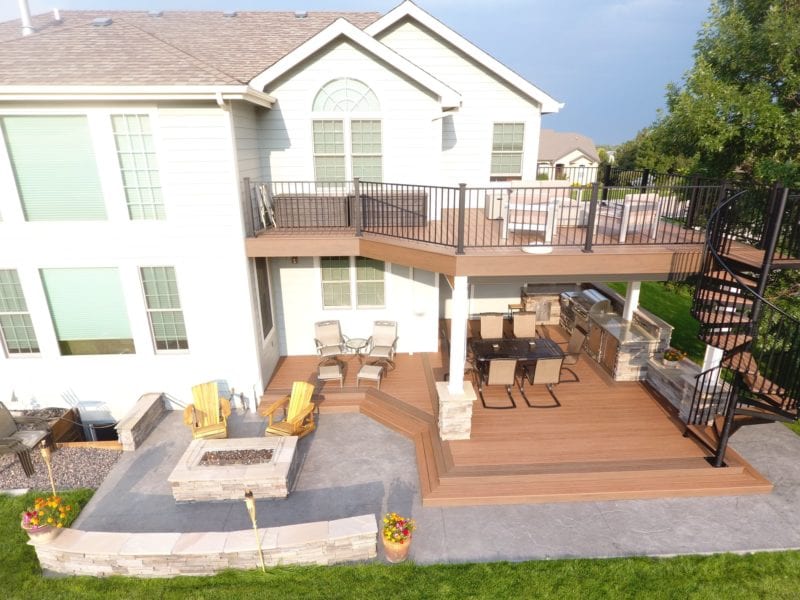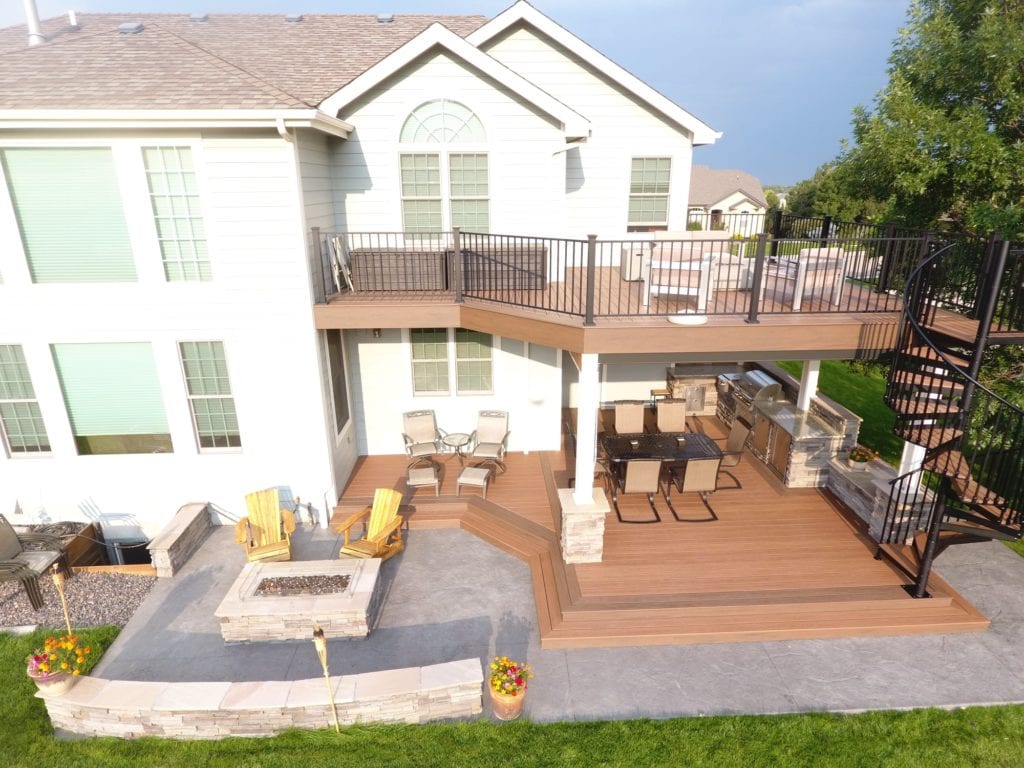 The Patio Builders From O'Keefe Built Know How to Extend Your Home's Space With Quality Construction
We build our patios to last, and that commitment to quality is part of every construction. We bring skills, years of experience, and complete project management to every custom patio construction project so every client can have faith in the safety and integrity of the build. When you choose O'Keefe Built, you get:
Transparent communication: Your project manager is available to answer all of your questions and will give you weekly updates. You can follow the progress of your patio construction through BuilderTrend.

Complete project management: We know the local codes to make sure your patio is compliant, safe, and high-value. Our team will handle permits for everything from basic patio construction to elaborate outdoor kitchen builds.

Unlimited options: Our patio builders have the skills, expertise, and certification to handle any patio or outdoor living space project. No matter how big or complex, we can get it done right.
Our Customers Love Their Patios During Year After Year of Outdoor Relaxation
The measure of a great patio isn't just in how it looks the day after construction is complete. Great patios look beautiful, and stay strong years after the work is complete. Our clients know that we build with expert techniques, use rugged and carefully selected materials, and commit to structural integrity every step of the way. See why other homeowners in your neighborhoods have chosen to trust O'Keefe Built.
We had a back porch put onto a new addition. They started and completed on time and within budget. The crew was a delight and very respectful to have working on our property. The finished porch is amazing and completed with great craftsmanship. I strongly recommend this team.
Overall, the O'Keefe Built crew was a pleasure to work with. They built a beautiful deck that works perfectly in the space we had…it looks like it came with the house!

Pat was knowledgeable and friendly, easy to work with. Project was on budget and on time. We highly recommend them!
Always super pleased with O'Keefe Built projects! They are detail-oriented and work to ensure the customer is satisfied. Will continue to use in the future!
We absolutely love the pergola that Pat and his team built on our back patio – they were friendly, professional, and got the job done quickly. Highly recommend!
Find inspiration From Our Gallery of Covered, Detached, and Attached Patios in Boulder, Colorado
Every patio is different. Our team of expert patio builders can create picturesque additions to your backyard so you can relax and enjoy the view or large outdoor entertaining spaces with expertly installed gazebos, detailed stonework, and permanent covers. Our patios have the amenities and quality so you can enjoy the outdoors on balmy summer days and snowy winter nights. Browse our gallery to find your favorite stone details, covers, hardware, and layouts.
Every Custom Patio Starts With Our Simple Four-Step Process
Your journey to a custom-built patio starts with a phone call. 
Call or

email

our team today to let us know what you have in mind for your space. A custom deck, a complete outdoor kitchen with a fire pit and grill, and covered concrete patio or sunroom… we do it all, and we'll get to work as soon as you take the first step.

Once you contact us, we'll schedule an initial walkthrough and site evaluation. There, we'll discuss in detail the needs of your property, what you need to create your perfect deck or outdoor living space, and the quality details that will elevate your backyard into an outdoor extension of your home.

Soon after the site visit, your project manager will send you a custom proposal. This includes, a estimate through the BuilderTrend Platform and could include  a video call to refine the plan and make sure every detail is just right

Then our in-house team of general contractors and deck builders gets to work. Each step focuses on safety and quality, from the 12″ on center supports to the picture framing edges of your deck. Our team is local and knows all the codes to ensure your deck is compliant, stays sturdy, and adds value to your home. Our skilled craftsmen handle the designing, rendering, and building so you can step back and watch your perfect outdoor living space take shape. 
Your project manager will check in every week during the project and post regular updates through BuilderTrend so you know exactly what's going on every step of the way.
Choose Our Patio Builders for Complete Project Management From Start to Finish
At O'Keefe Built, we do it all. Transform your backyard into a completely customized extension of your home with a custom deck, an outdoor living space complete with a kitchen and gazebo, a sunroom, or a covered patio. If you love spending time relaxing or entertaining in your backyard, we'll create a beautiful, personalized space to match your lifestyle. Browse our complete list of design and construction services.
We Create Luxurious, Long-Lasting Outdoor Living Spaces Throughout the Boulder, Colorado, Area
We're proud to call the Boulder, Colorado area home, and we know how wonderful it can be to enjoy the mountain views from a relaxing outdoor living space. That's why we offer our complete deck building and outdoor living space construction services throughout the community. Our service areas include:
Erie, Colorado

Lafayette, Colorado

Longmont, Colorado

Louisville, Colorado
Build Your Skills as an Expert Craftsman With Our Team of Patio Builders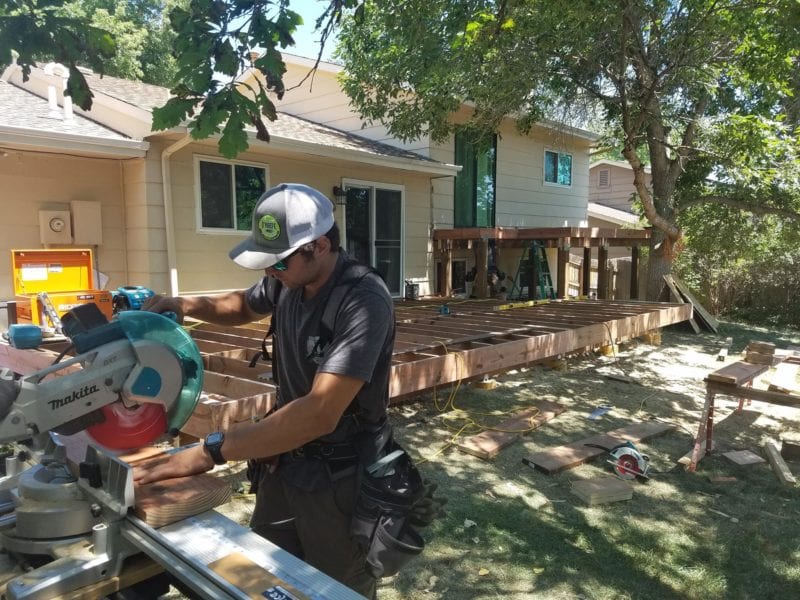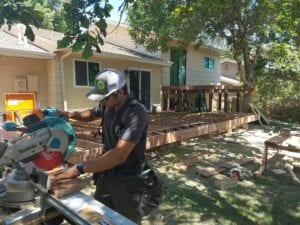 Contact O'Keefe Built Today to Start Enjoying a Brand New Backyard
When you decide it's time for a brand new patio, don't compromise on quality. At O'Keefe Built, we construct all of our patios from premium stone and concrete materials so the space stays as good as new season after season. Enlarge your home's living space with a premium patio by contacting us today.