Expand Your Home With a
Custom Outdoor Living Space

Perfect for Relaxation and Entertainment
O'Keefe Built Designs and Builds Beautiful Decks and Outdoor Kitchens So You Can Enjoy the View in Boulder, Colorado

Boulder, Colorado homes enjoy amazing views of the Rocky Mountains, lakes and reservoirs, and beautiful forests. Come home to a custom-built outdoor living space that lets you enjoy the view season after season.  Relax on an extensive deck with a pergola during sunny summer days or curl up next to the fire on frosty winter evenings. Choose your favorite finishes, styles, and details that make up the perfect outdoor living space, and our team of experts will craft the design and bring the finished space to life.
All or out outdoor living spaces start with a thorough design and solid foundation. Quality decks are safe and sturdy, and we create all of our projects with this fundamental understanding in mind. We go the extra mile to guarantee structural integrity on our single and multi level decks, building with superior building products like pressure-treated LVL, and framing all of our projects with 12″ on center joist spacing instead of 16″. Our standards are better then what is required by code. These extra details ensure you have a beautifully finished space that stays solid year after year with unparalleled longevity and lower maintenance demands.
We create custom decks and outdoor living spaces that perfectly suit each of our clients, including:
Covered concrete patios that shield visitors and hosts from rain and bright sunlight

Peaceful sunrooms that let people enjoy the outdoors with premium protection from the elements

Premium outdoor livings with plenty of seating, outdoor kitchen amenities, built-in grills, and fireplaces or fire pits for cool evenings

Eye-catching decks with expertly arranged lighting and sturdy railings
Contact O'Keefe Built today to schedule a walkthrough and meet your project manager.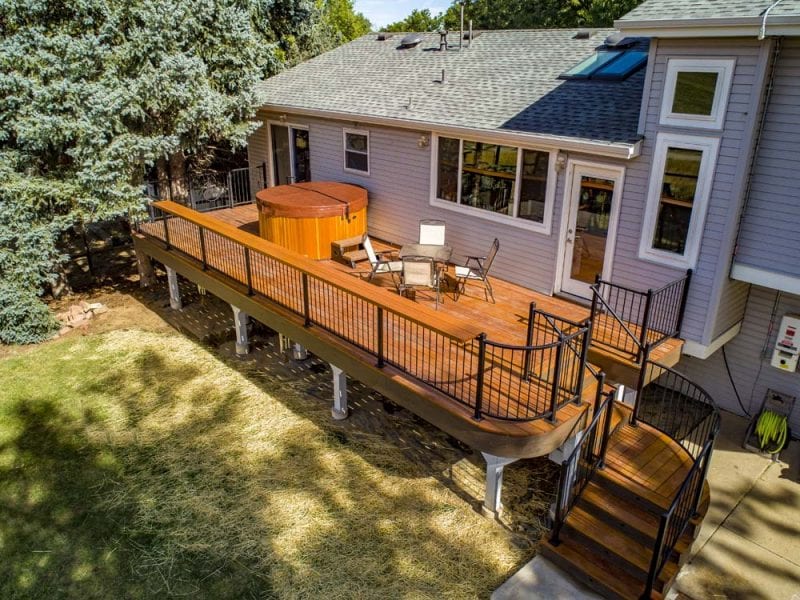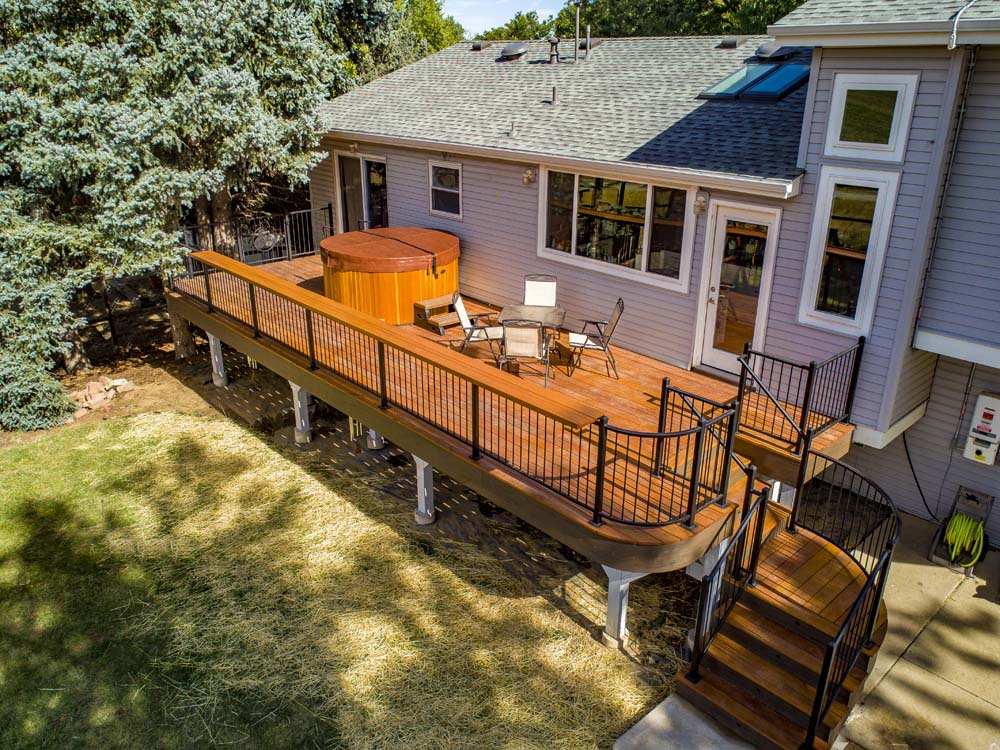 See What Other Boulder, Colorado Residents Love Most About Their O'Keefe Built Outdoor Living Space
The measure of a great deck isn't just in how it looks the day after construction is complete. Great decks feel safe, look beautiful, and stay strong years after the final board is set in place. Our clients know that we build with expert techniques, use rugged and carefully selected materials, and commit to structural integrity every step of the way. See why other homeowners in your neighborhoods have chosen to trust O'Keefe Built.
We had a back porch put onto a new addition. They started and completed on time and within budget. The crew was a delight and very respectful to have working on our property. The finished porch is amazing and completed with great craftsmanship. I strongly recommend this team.
Overall, the O'Keefe Built crew was a pleasure to work with. They built a beautiful deck that works perfectly in the space we had...it looks like it came with the house! Pat was knowledgeable and friendly, easy to work with. Project was on budget and on time. We highly recommend them!
Always super pleased with O'Keefe Built projects! They are detail-oriented and work to ensure the customer is satisfied. Will continue to use in the future!
We absolutely love the pergola that Pat and his team built on our back patio - they were friendly, professional, and got the job done quickly. Highly recommend!
Get a Safe, Durable, and Beautiful Outdoor Living Space With All the Amenities and Features You Want
There's nothing better than enjoying the view of mountains and forests from your backyard. Relax or entertain in comfort when you choose O'Keefe Built's deck builders. Our custom-built outdoor living spaces feature sturdy deck railings, top-of-the-line appliances and fixtures, and rock-solid materials that let you trust your deck year after year. Visit our services page to learn more about each service we offer.
Our Custom Construction Process Is Built to Fit Your Schedule and Needs
Your journey to a custom-built deck starts with a phone call. If your home's deck is rotting, unsafe, or simply not the right fit for your ideal outdoor living space, don't wait for something to break. 
Call or

email

our team today to let us know what you have in mind for your space. A custom deck, a complete outdoor kitchen with a fire pit and grill, and covered concrete patio or sunroom… we do it all, and we'll get to work as soon as you take the first step.

Once you contact us, we'll schedule an initial walkthrough and site evaluation. There, we'll discuss in detail the needs of your property, what you need to create your perfect deck or outdoor living space, and the quality details that will elevate your backyard into an outdoor extension of your home.

Soon after the site visit, your project manager will send you a custom proposal. This includes, a estimate through the BuilderTrend Platform and could include  a video call to refine the plan and make sure every detail is just right

Then our in-house team of general contractors and deck builders gets to work. Each step focuses on safety and quality, from the 12″ on center supports to the picture framing edges of your deck. Our team is local and knows all the codes to ensure your deck is compliant, stays sturdy, and adds value to your home. Our skilled craftsmen handle the designing, rendering, and building so you can step back and watch your perfect outdoor living space take shape. 
Your project manager will check in every week during the project and post regular updates through BuilderTrend so you know exactly what's going on every step of the way.
Outdoor Living Space Designers and Expert Builders Are Invited to Apply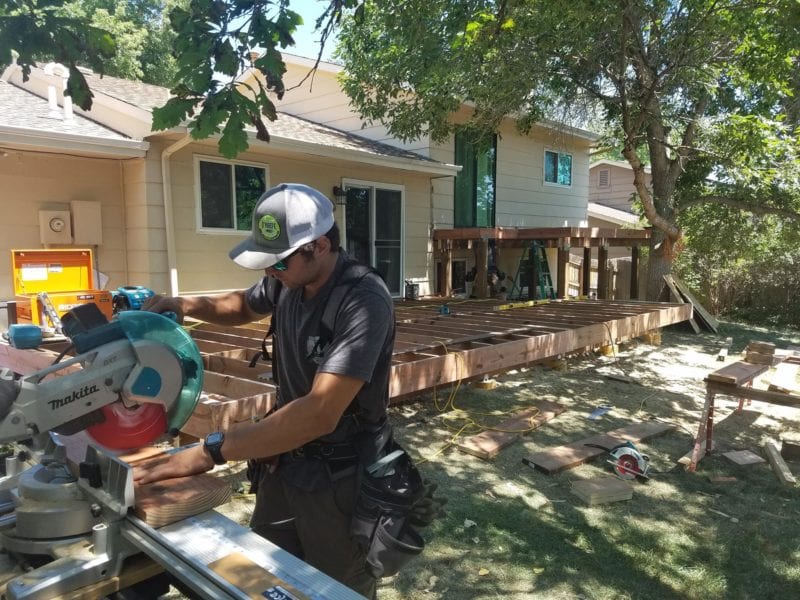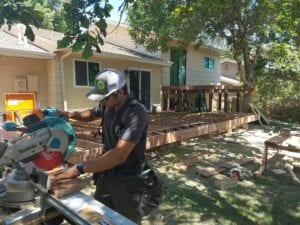 Invest in Your Boulder, Colorado Home With a Custom Outdoor Living Space That Adds Value and Enjoyment
Whether you live in Boulder, Colorado, or you're enjoying time away in your vacation home, we're here to make enjoying the outdoors at home easier than ever. We can replace your current wooden deck, completely redesign your patio, and extend your home with an outdoor living space and kitchen. Relaxing and entertaining in your home is even more fun with a deck you can trust and high-end features you love. Start your journey to a high-quality, custom-built space by contacting us today. Your project manager will handle all the details and our expert craftsmen will get to work.